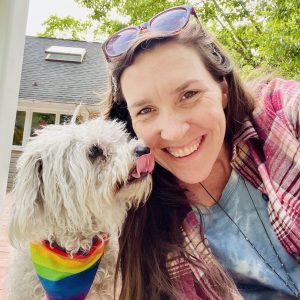 Shannon
Originally from New York, Shannon has been working with animals professionally for over 20 years. She has a deep love and passion for animals, which has been with her since a very young age. At five years old, when asked "what do you want to be when you grow up?" Shannon quickly answered "I want to own a puppy store!" – (not knowing the moral implications of course!) Her favorite place to go as a child was a local, family-owned pet store, which she later managed for many years, while earning a double bachelor's degree in Global Studies and Women's Studies. After moving to California to discover and follow her dreams, Shannon realized that her real dream was always right in front of her. She was destined to start a pet care business, and her years of experience in both animal care and customer service would allow her to achieve this goal with ease. In 2010, Doggie Bliss was born, and Shannon has never looked back! In her downtime, you can find her loving life and living it to the fullest with her wife, Kat, daughter, Skye, and two kitties, Chaplin and Willow.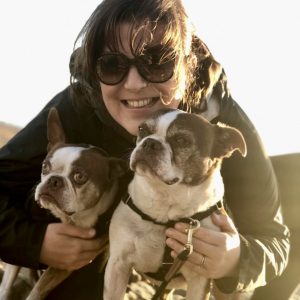 Kat
Kat is from a small town near Rochester, NY where her love for animals began!  She would go on nature hikes from the time she could walk, and owned several animals from dogs to hamsters and everything in between.  She holds a B.A. in Behavioral Studies, as well as a California State Cosmetology License.  Though she loves being a stylist, she feels happiest when she is around her fur-friends!  She has been with Doggie Bliss since it's beginning, and feels so lucky to be surrounded by animals and like-minded dog lovers on a daily basis!  When not working for Doggie Bliss, Kat loves hiking, skiing, beaching, and cooking glorious vegan meals for her wife, Shannon and daughter, Skye!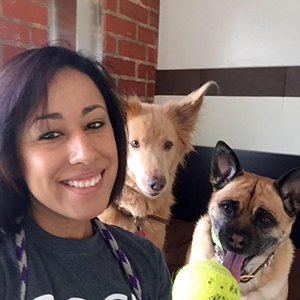 Monique
Monique comes to us with a diverse background of corporate structure, hospitality, consulting and management, but most importantly she comes to Doggie Bliss with knowledge and a passion for animals. Starting out as a dog walker and sitter on the Westside, she went on to enjoy all aspects of the industry from being a certified animal behaviorist and trainer, to managing multiple pet resorts and dog daycares. Fast forward to today, she happily contributes her expertise to ensure your pets are happy and healthy while in our care. In her downtime, you can find Monique volunteering at Pug Nation Los Angeles, or watching Pit Bulls and Parolees at home with her two dogs Sunshine and Lyra 🙂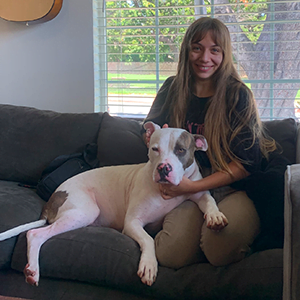 Jenna
Jenna was born and raised here in West Los Angeles. Her earliest experience with dogs occurred when she was just five years old, and was gifted a very sassy Pekingese puppy named Ginger. She has had an array of cat friends throughout her life, and currently has a five year old tabby named Dexter who loves to eat and nap. Jenna is a student at Santa Monica College, is planning to major in Media Studies, and hopes to venture into radio. When she's not spending time with cats or dogs, she enjoys playing bass and writing lyrics with different projects around the Los Angeles area.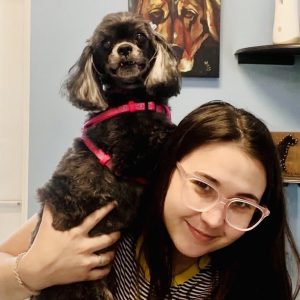 Alexandra
Originally from Tampa, Florida and building a life here in LA, Alex lives with her 2 year old Husky who is full life and never lacking in shenanigans. She was raised with pets and has continued to be an animal lover her whole life. Always having at least two dogs and one cat and various animals in-between (mostly lizards and hamsters), there has been no shortage of experience. Alex is very comfortable following routines in place, giving medications or helping with any needs specific to each pet. She prides herself on her ability to connect with pets to ensure that your fur babies are comfortable and happy while you have to be away from them.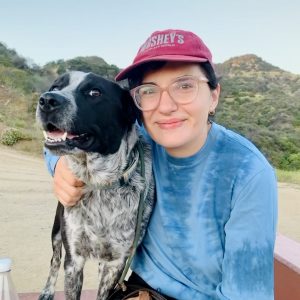 Anna
Originally from New Jersey, Anna is a hiking and fitness enthusiast who is in love with all things LA! She has had animals in her home since she was a child and currently has three dogs that she rescued from across the country, one of which Anna is currently training to do some service work. She has always firmly believed animals can soothe the soul in a way nothing and nobody else can, and that the comfort and kindness they provide to humans is unmatched. She has worked in doggie daycare and with animals professionally for the past three years. Anna finds that walking and pet sitting dogs with Doggie Bliss is the best way for her to combine all her favorite things to do in one job! When she's not walking dogs and caring for kitties, you can find Anna exploring all of the trails LA has to offer.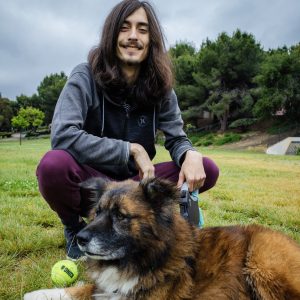 Anthony
Anthony was born and raised in California, and has lived all over SoCal for his entire life. He has had a deep passion for animals since childhood, and feels so lucky that he go to grow up with many cats and dogs.  As a previous kennel manager and now dog walker, Anthony has learned the ins and outs of proper pet care, and is experienced handling dogs of all sizes. He is happy to say that his dream of making a career out of being a friend for people's pets has come true! In his free time he likes to hike, rock climb, cuddle animals and play video games.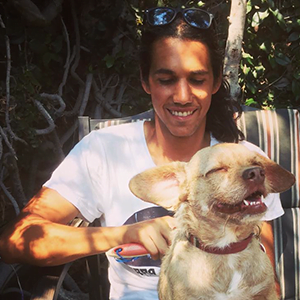 Dante
Dante is a Los Angeles native, born and raised near the waters of Venice Beach. He has been around animals since before he could walk, his first friend ever being his Golden Retriever, Mia. With a large family comes lots of pets, and Dante has always been the one to lend a helping hand for those pets when needed. After graduating college, he took a year to explore his passion for animals by working at a veterinary clinic as a veterinary technician. After discovering the medical side of pet care, he decided to go a different route, and really enjoys being able to bond with all of the doggies he walks on a regular basis. On his off time, Dante enjoys hiking, riding his bike or hitting up the beach.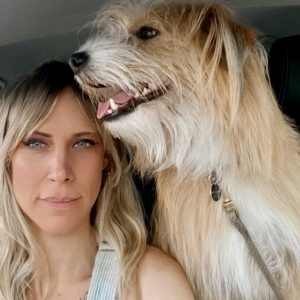 Gia
Gia is a California native who grew up in Venice Beach, and went to college at San Francisco State University. She later lived in Encinitas, CA for the San Diego beaches, surf, sunshine and dog walking! She has been back on the Westside of LA for the past 5 years working as a nanny, dog walker, personal organizer, house sitter, & pet sitter for all types of animals!  From a very young age Gia has loved working with and being around any and all types of animals especially dogs and cats! 10 years ago she adopted a Pit Bull/Chow/Rhodesian Ridgeback mix named Blue from her local shelter and gave him a loving home! She has been vegan and participating in animal advocacy for the past five years as well. Working with animals and serving clients on the Westside of Los Angeles has brought her so much joy! In her free time she enjoys photography, surfing, getting out into nature, camping, road trips up the coast, art shows and live music!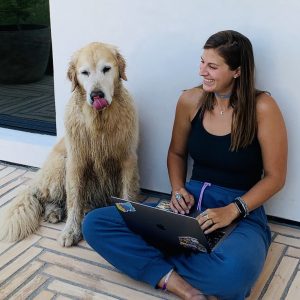 Gianni
Gianni was born and raised in the San Francisco Bay Area with a yellow Lab named Bessie. Her love for dogs was very obvious when her first words were "good dog". Her passion for animals has continued to grow and as an adult, Gianni still stops to say hello to every dog that crosses her path! Gianni currently works remote which means her office mates are usually the cats or dogs of her family and friends! When she is not working or taking care of pets, you can find her swimming in the ocean, hiking, practicing yoga, snowboarding, cooking for friends, or camping.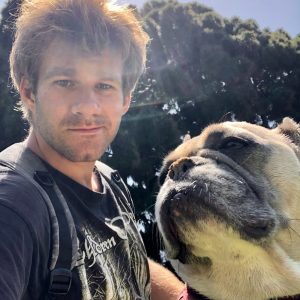 Graham
Graham is originally from Chicago, where he grew up raising two golden retrievers, Snoopy and Clay, and began walking dogs professionally.  Whenever he visits his hometown, he enjoys taking his family's golden retriever puppy, Duncan, on walks through the forest.  Graham moved to Los Angeles shortly after completing his master's in film scoring at New York University, and freelances as a composer / sound designer for film, games, and television.  He holds belts in multiple styles of karate (black in Shotokan, and top green in Kyokushin) and can speak / read Japanese.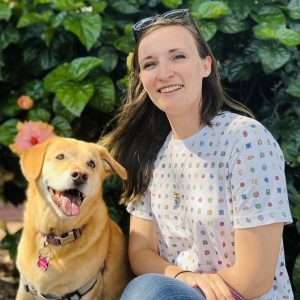 Kellie
Kellie is California born and believes that every experience is improved with a dog at your side! Whether that be playing a video game with a Brussels Griffon in her lap, taking photos of a Tabby cat in the sun, or hiking through nature with a Border Collie, Kellie always enjoys the company of pets and the joy they bring to your day. Her love of animals inspired her to pursue Animal Nursing for many years, and achieve her Registered Veterinary Technician's license. Kellie is particularly passionate about how we communicate with animals and the many ways they tell us their needs. In her free time she can be found sculpting, taking care of an array of houseplants and succulents, and singing.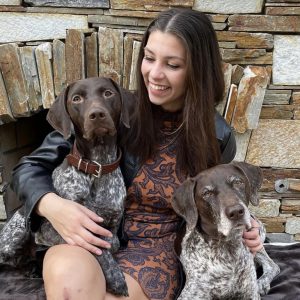 Madison
Madison is originally from El Dorado Hills, CA, and is a recent graduate of UCLA. She is extremely passionate about dogs, and has two German Shorthaired pointers back home. During the pandemic, Madison fostered 4 rescue pups until they found their forever homes. She has been walking and pet sitting for the past 10 years, and is currently working towards her Doctor of Physical Therapy Degree. I her free time, you can find Madison hiking, going to the beach, playing volleyball, watching movies, and exploring LA!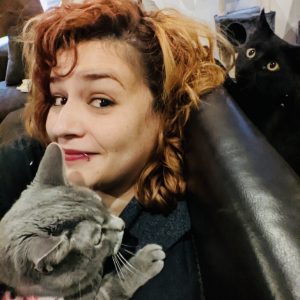 Misty
Born and raised on the West Coast, Misty traveled after high school to the East Coast and Midwest for 6 years before it was time to come home. She's been living in LA for 11 years with her two cats Rose and Zoey, and enjoys not having to dig her car out of the snow in sunny SoCal. Growing up she almost always had a house full of pets — from mice to cats to reptiles — and she has a huge soft spot for senior animals. One of her passions is to make people's day go just a little more stress-free, and she thought what better way than to help take care of their furry friends! When not working, Misty enjoys traveling, listening to podcasts, board games, and working on puzzles.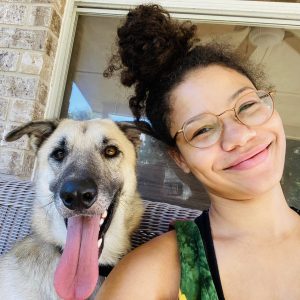 Nya
Nya was born and raised in Austin, Texas where she got her start caring for animals as a foster parent for the local shelter. Her first foster dog, Malak, got her hooked on the world of pet care and she hasn't left since! Nya also holds a BFA in Acting from the University of Texas at Austin. When she wasn't studying her British accent or memorizing lines, she was befriending all of the neighborhood dogs and cats. In her spare time, Nya is training for a half-marathon, soaking up the LA sunshine, and making her way down her long watchlist of movies.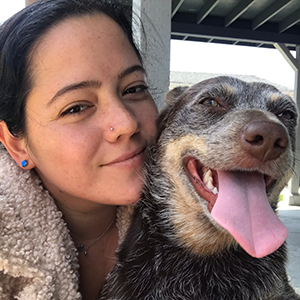 Riki
Riki was born and raised in Venice, Ca. Her love for animals started at a very young age. She grew up with tons of animals; 2 Dogs, 3 cats, a turtle, parrots, chickens and bunnies!
When she turned 19 she decided to adopt her own puppy and fell even more in love with dogs. She then started working in the pet care industry shortly after turning 20 and has loved it ever since! When Riki is not walking her pups she loves to spend time with her family, meditate at the beach, and take her  puppy on long hikes.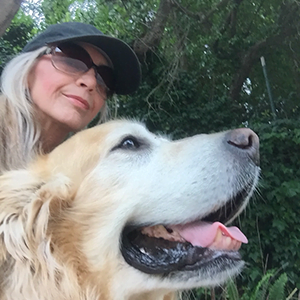 Velma
Velma has been living in West LA for the past 6 years. Her love for animals started at a very young age. She grew up surrounded by all kinds of animals and always knew she wanted to work with them! Doggie Bliss gave her the perfect opportunity to pursue her passion <3
In her free time she enjoys hiking, spending time with family and friends, watching movies, designing and making jewelry, photography, visiting art and architecture exhibitions and of course Dog Shows!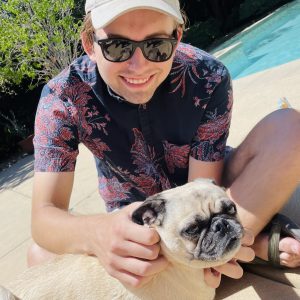 Will
Will is originally from Boise, Idaho, and has been a lover of dogs ever since he picked up his beloved border collie, Pogo, from the pound when he was 7. Pogo, along with the various orange tabbies he had in his youth, gave him a deep love and appreciation for our furry friends.
He graduated from Montana State University in 2020 with a degree in Film and Photography and hopes to someday work in post-production. When not walking dogs, you can catch him taking advantage of southern California's endless outdoor opportunities, including hiking, swimming, biking, and backpacking.