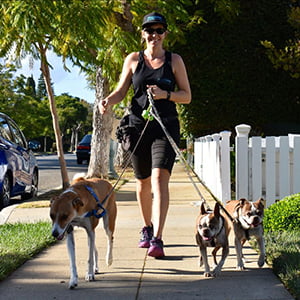 Shannon
Originally from New York, Shannon has been working with animals professionally for over 20 years. She has a deep love and passion for animals, which has been with her since a very young age. At five years old, when asked "what do you want to be when you grow up?" Shannon quickly answered "I want to own a puppy store!" – (not knowing the moral implications of course!) Her favorite place to go as a child was a local, family-owned pet store, which she later managed for many years, while earning a double bachelor's degree in Global Studies and Women's Studies. After moving to California to discover and follow her dreams, Shannon realized that her real dream was always right in front of her. She was destined to start a pet care business, and her years of experience in both animal care and customer service would allow her to achieve this goal with ease. In 2010, Doggie Bliss was born, and Shannon has never looked back! In her downtime, you can find her loving life and living it to the fullest with her wife, Kat, daughter, Skye, and two kitties, Chaplin and Willow.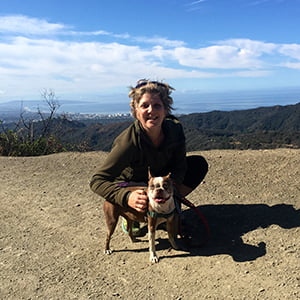 Kat
Kat is from a small town near Rochester, NY where her love for animals began!  She would go on nature hikes from the time she could walk, and owned several animals from dogs to hamsters and everything in between.  She holds a B.A. in Behavioral Studies, as well as a California State Cosmetology License.  Though she loves being a stylist, she feels happiest when she is around her fur-friends!  She has been with Doggie Bliss since it's beginning, and feels so lucky to be surrounded by animals and like-minded dog lovers on a daily basis!  When not working for Doggie Bliss, Kat loves hiking, skiing, beaching, and cooking glorious vegan meals for her wife, Shannon and daughter, Skye!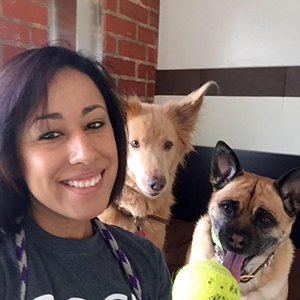 Monique
Monique comes to us with a diverse background of corporate structure, hospitality, consulting and management, but most importantly she comes to Doggie Bliss with knowledge and a passion for animals. Starting out as a dog walker and sitter on the Westside, she went on to enjoy all aspects of the industry from being a certified animal behaviorist and trainer, to managing multiple pet resorts and dog daycares. Fast forward to today, she happily contributes her expertise to ensure your pets are happy and healthy while in our care. In her downtime, you can find Monique volunteering at Pug Nation Los Angeles, or watching Pit Bulls and Parolees at home with her two dogs Sunshine and Lyra 🙂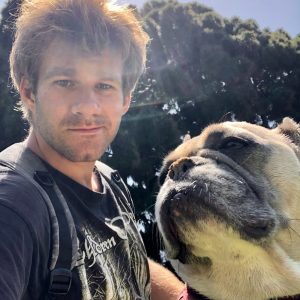 Graham
Graham is originally from Chicago, where he grew up raising two golden retrievers, Snoopy and Clay, and began walking dogs professionally.  Whenever he visits his hometown, he enjoys taking his family's golden retriever puppy, Duncan, on walks through the forest.  Graham moved to Los Angeles shortly after completing his master's in film scoring at New York University, and freelances as a composer / sound designer for film, games, and television.  He holds belts in multiple styles of karate (black in Shotokan, and top green in Kyokushin) and can speak / read Japanese.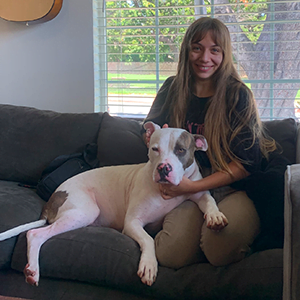 Jenna
Jenna was born and raised here in West Los Angeles. Her earliest experience with dogs occurred when she was just five years old, and was gifted a very sassy Pekingese puppy named Ginger. She has had an array of cat friends throughout her life, and currently has a five year old tabby named Dexter who loves to eat and nap. Jenna is a student at Santa Monica College, is planning to major in Media Studies, and hopes to venture into radio. When she's not spending time with cats or dogs, she enjoys playing bass and writing lyrics with different projects around the Los Angeles area.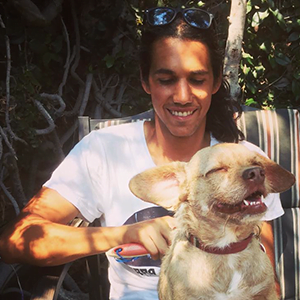 Dante
Dante is a Los Angeles native, born and raised near the waters of Venice Beach. He has been around animals since before he could walk, his first friend ever being his Golden Retriever, Mia. With a large family comes lots of pets, and Dante has always been the one to lend a helping hand for those pets when needed. After graduating college, he took a year to explore his passion for animals by working at a veterinary clinic as a veterinary technician. After discovering the medical side of pet care, he decided to go a different route, and really enjoys being able to bond with all of the doggies he walks on a regular basis. On his off time, Dante enjoys hiking, riding his bike or hitting up the beach.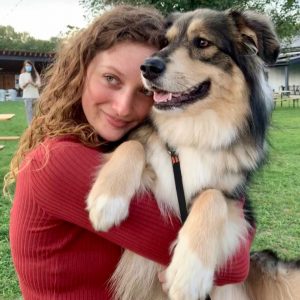 Eloise
Eloise was born and raised in LA, and has always felt a deep connection and respect for animals. She recalls sneaking out early in the morning to pet her neighbors horses when she was five, and adoring her family's Rhodesian Ridgeback, Red, and Welsh-Corgi, Buddy. She began as a dog person, but has been won over again and again by her parent's rescue Calico kitties! Eloise earned a BA in American Literature from UCLA, and has loved meeting new people and furry friends with her time at Doggie Bliss. Eloise's pastimes include sitting in the sunshine reading a good book, cooking vegetarian meals, and spending time with friends and family.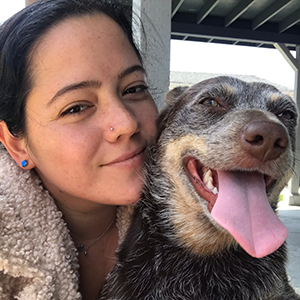 Riki
Riki was born and raised in Venice, Ca. Her love for animals started at a very young age. She grew up with tons of animals; 2 Dogs, 3 cats, a turtle, parrots, chickens and bunnies!
When she turned 19 she decided to adopt her own puppy and fell even more in love with dogs. She then started working in the pet care industry shortly after turning 20 and has loved it ever since! When Riki is not walking her pups she loves to spend time with her family, meditate at the beach, and take her  puppy on long hikes.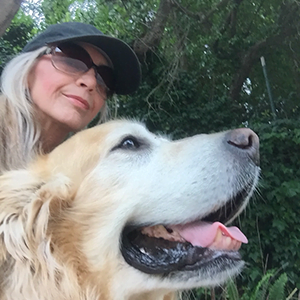 Velma
Velma has been living in West LA for the past 6 years. Her love for animals started at a very young age. She grew up surrounded by all kinds of animals and always knew she wanted to work with them! Doggie Bliss gave her the perfect opportunity to pursue her passion <3
In her free time she enjoys hiking, spending time with family and friends, watching movies, designing and making jewelry, photography, visiting art and architecture exhibitions and of course Dog Shows!