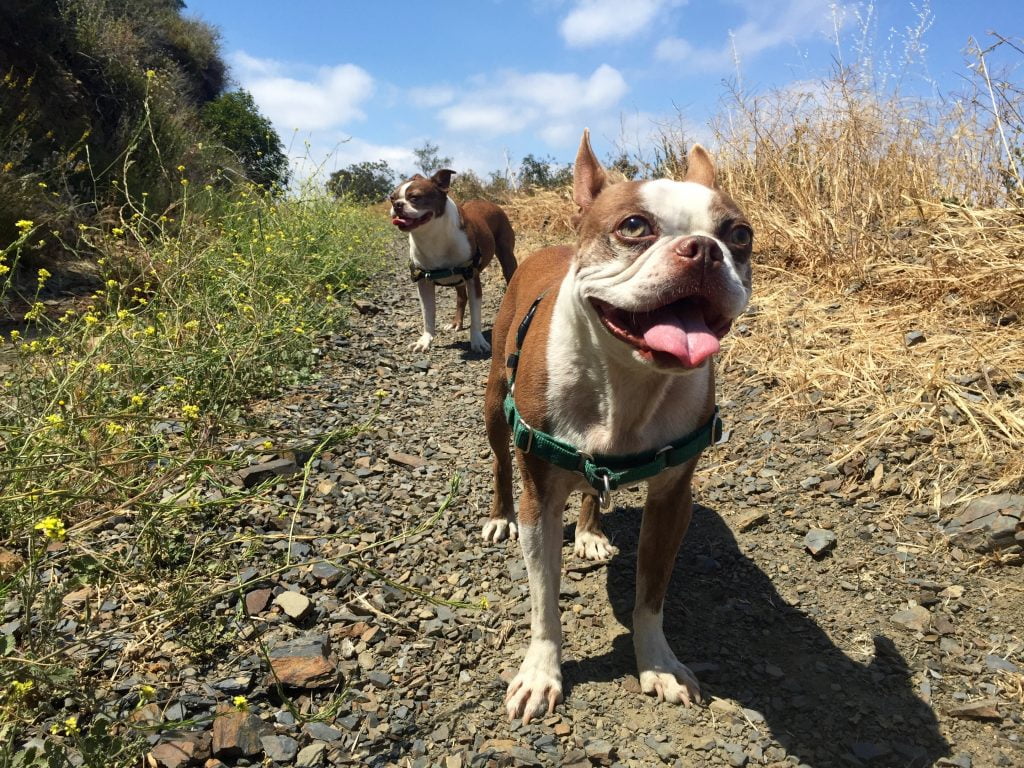 As the weather gets warmer, many of us are ready to get out and do some summer hiking with our fur-friends!  There is just something about being in the open air, the sun beaming down, and a warm gentle ocean breeze that none of us can resist!
This past weekend, Shannon and I went for a long hike in the Santa Monica Mountains with our two Boston Terriers, and we had a great time.  The pups were so happy, and we all were excited for an adventure, but it took me a while to pack everything up for them. It occurred to me that I should just make up a doggie-related hiking bag to grab on the go. Below is a guide list that you can pack and leave in your car for all of your summer adventures!!!
Fido's Hiking Bag:
Filtered water/water dish
High protein food/treat to keep up energy! (we like Primal Freeze Dried Patties)
Towel – in case you find water and Fido gets to go for a swim
Collar/Harness with dog's tag information
Leash – there are many off leash hikes in Los Angeles, but it's always better to be safe!
Tick remover – tweezers work well, but remember, when pulling out ticks, you must get the whole body out
Non-scented baby wipes – to wipe off fido's paws after the hike!
Poop bags
First-aid kit, including a small bottle of hydrogen peroxide, gauze, and medical tape in case of a cut!
Sunscreen or light Tshirt – if your dog is bald or balding!
Doggie boots – if it's rough terrain
Now that you have your checklist, pack your bags, and start your summer adventures!
Best!
Shannon and Kat