When I go to walk Ted, I get excited. I can't wait to see him. I think that I am more excited to see Ted than he is to see me. It's hard not to get amped up though. To put it plainly, Ted is a "good dog."
That may not seem like glowing praise, but I stand by my description of Ted. He is a "good dog" in the most classical sense. You know the moment in a movie, where the owner looks warm-heartedly into their dog's eyes, and says "Good dog"? That is Ted.
Every time I get Ted for a walk, I have to put aside a couple minutes just to say hello to him. He covers me in kisses, I give him a big hug. He has nothing but love to spare. His big mouth stretches into one of the happiest smiles you can imagine.
Ted's eyes are one of his most piercing features. They carry such a weight, with a profound sense of calm and reserve. You look at his eyes and think, "This dog probably knows more than me."
Once we are walking, I almost forget I'm walking with a dog. He is so calm, and has such a presence, that I can't help but start a conversation with him.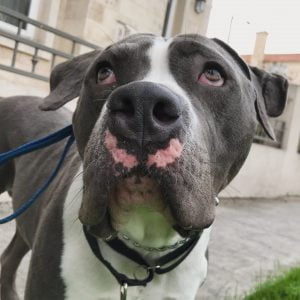 "Ted, how's your day going?"
"Ted, what's up with the weather lately?"
"How do you feel about the current political climate, Ted?"
He never says anything, but I can tell that he is listening.
When meeting other dogs, Ted just likes to watch and wag his tail. He lets other dogs come to him and present themselves. When they bark, he watches them bark. When they sniff, he will sniff back. Ted is the quiet type. The friend you know that is always ready to find a cozy corner at a party and have a nice conversation.
This may seem like a puff piece on Ted, but I believe everything that I have laid out. Ted is an incredible dog, and I am glad that I have been able to walk with him. Wags and Walks does an outstanding job working to rescue pups and give them a second chance. I am so happy that Ted was given his own second chance, and even has the opportunity to look for his forever home. I hope that whoever takes Ted into their life sees his beautiful soul, and shares his love with others.
Ted is Wags and Walks' Dog of the Week! He is available for adoption, and if you or anyone you know are interested, please go to the link below! Please help Ted find his forever home!